Follow these simple steps to set up reward campaigns. These will be the benefits your donors will receive for trusting your project.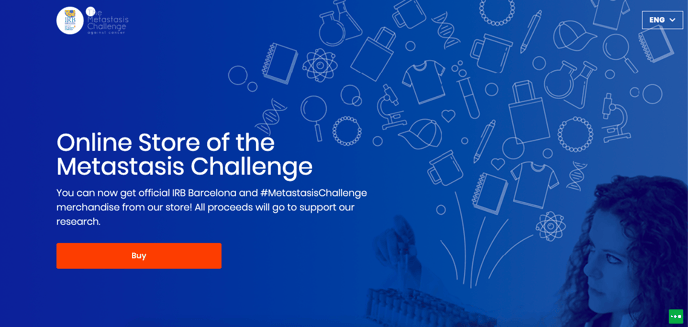 1. Create a Reward Campaign
In the BackOffice, once you enter the organization you have registered for the first time, you will see a screen with no created campaigns. You must select the button "Create new campaign" and choose the type of campaign you want to set up. In this case, it is the second of the three options:
StockCrowd in Reward Mode
The title you choose here will be your "campaign" title. Remember that it will be editable later in the General Data tab.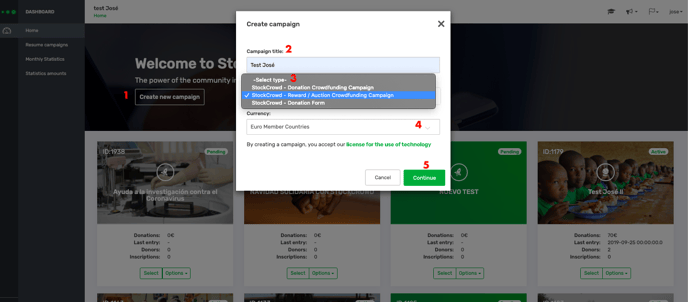 2. Fundamental Fields to be Filled in for the Creation of the Landing

To create your Reward Landing, it is essential that you fill in the following sections:

Content:
- General Data: Remember to click on the "Allow free contribution to the campaign" button, in case you want to allow free donations, in addition to the rewards.
- Header and Footer: This is where you can add your main campaign photo or video and select the color of the footer, if you want it to be visible.
- Rewards: In this section, we will set up all your rewards. Details will be entered at the end of the process.
- Fill in the rest of the fields that interest you, such as: Storytelling, Attachments, Team, etc. If you need more information about these sections, take a look at this article. 👈

Configuration:
- Form: Here you can define everything related to the form to be filled in by the donor when receiving any of the rewards.
- Donation Certificates (if they are to be issued).
- Payment Gateway.


3. Reward Settings

To design your Rewards section, you must access the content area, then the Rewards section.

📌📌 Added rewards can be reordered, edited, and deleted until the first one is purchased. Once a participant acquires one of the rewards you have set up, it cannot be edited or deleted.


If you want to edit the title of this section, you will have to click on "Edit Header", found in the upper-right section.

To add a reward, you must click on the upper-right button called "Add Reward".
Once this reward is created, a form will appear where the characteristics of this reward will be entered. Not all fields are required, so you should only fill in those that you see as applicable to your reward.

Basic Data
Reward Title.
Starting Amount: Price of the reward.
Start Date and Waiting Days: You will have to choose the start date of the reward in this section (before this selected date, the reward will not be available in the campaign). You can choose a pre-determined date, the pre-campaign start date, or the actual campaign start date, as well as the waiting days thereafter.

If you want the start date of the reward to be the start date of the campaign, you can leave the waiting days field empty.

📌 Remember to include a start date for your campaign in the General Data area.

Days of Duration: If you want your reward to have a limited active period in the campaign, you can select the days of duration for this reward in this field.

Complementary Data
Description: In this field, you can write a brief description of your reward, or give more information that may be of interest to donors.
Contribute Button Text: You can customize the reward button text here.
Number of Investors: If your reward has a limited number of units available, you must enter that quantity in this field.
Reward URL: If you want your reward to take a donor to another webpage, instead of to the purchase process page, enter the URL here.
Amount to Donate: If you want the money raised by this reward to be considered a donation, and thus reflected in the donation certificate, you must enter the reward price, or part of the price, here.
Minimum and Maximum Selectable Quantity: If you want to have selectable minimum or maximum units, you can configure that number in these fields.
Optional Extras:
- Hide Availability: If you do not want the remaining units of the offered reward to be seen, you can hide it with this option.

- Hide Requested: If you want to hide the number of units that have already been purchased, you can do so here.

- Hide Reward: If you don't want your reward to appear for any amount of time, you can hide it with this button.
Once all these features are defined (or those that are not applicable are dismissed), you should save your changes.
Once you have saved your changes, new reward options will appear:
Flags of Internationalization : Once the reward has been created, the fields that can be internationalized will have a flag symbol next to them. If your campaign is available in several languages, and you want to translate these fields, click on the flag, then on the relevant language, and then enter the text to be translated into that language.


Image Gallery: Upload one or several of your reward images here.

Shipping Costs: If you want the shipping costs to be reflected in the purchase, and charged along with the amount of the reward, you can do so from here. Download the country template, enter the amount for the country or countries that have shipping costs, and upload it back to the BackOffice. Once this document is uploaded, the template for provinces will appear, if you want to differentiate these items by provinces and not only by country.
User Data Sections: To every reward you can add certain fields to be filled in by the user during purchase. To do this, add a section (with or without a name), and from the green option button, you can add a field.

From here, you can add product characteristics (for example: color, size, etc.), user data (shipping address, email, etc.), or any field you may need. In addition, for each field, you can choose whether you want it to be filled in as a free text field, as a list of default values, as an email format, or as a date format.
With this complete, you'll have your Rewards campaign ready to go. Remember, at any time, you can easily visualize how your campaign is going. Here 👈 we'll explain three ways to do just that.