If you want to contribute to a cause, it's time to create your P2P campaign. Learn how with our simple instructions.
Usually, access to the P2P Marketplace of a campaign is provided via a donation campaign using the "Create your campaign" button. However, you may directly access the "Marketplace".
The Marketplace looks like this: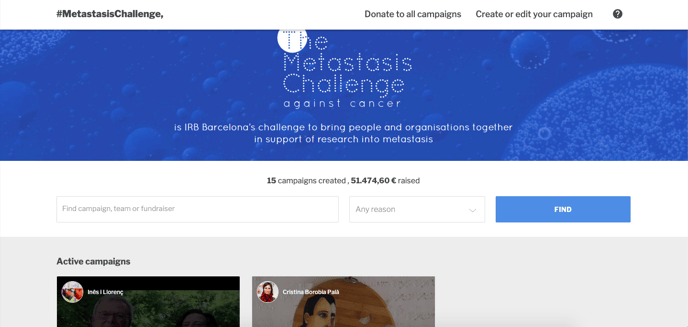 Within the Marketplace, we have different options:
Donate to all campaigns.
Create or edit your campaign.
Help button


1. Donate to All Campaigns
By clicking on this option, the donor can make a donation directly to the main campaign with which the P2P is associated, instead of donating to one of the Peer-to-Peer campaigns. By doing this, contributions go to the common general cause.

2. Create or Edit Your Campaign
You will find this button both at the top-right and at the bottom of the Marketplace:
CREATE OR EDIT YOUR CAMPAIGN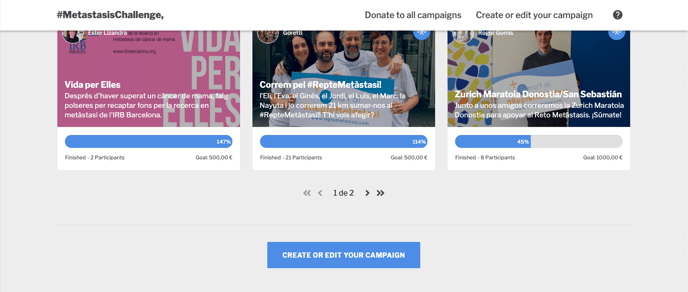 From here, you can start creating your P2P campaign, or, in the case of having one already created, edit it.
2.1. Create a P2P Campaign
When you click on this button, you will be asked for an email address to which a confirmation code will be sent, so that you can begin creating the campaign.
NOTE ❗❗: You can only create a campaign by email. If a campaign is already created, the access email will allow you to edit the campaign.
Once you have entered the access code, you will be taken to the page where you will create your P2P campaign. On the left, you will have to enter the data required to create the campaign, and, on the right, you can see how it looks.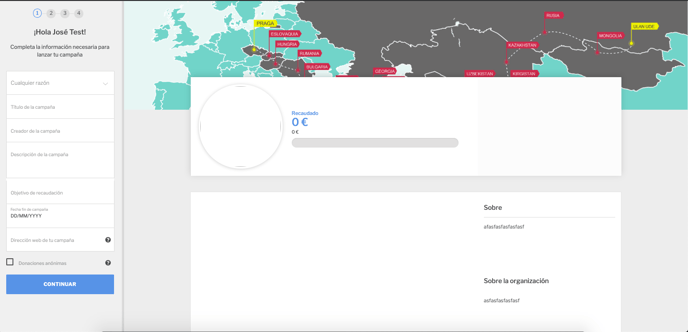 The fields to be filled in are as follows:
Section 1
- Campaign Reason: In this section, you will have a drop-down menu where you can choose from one of the predetermined reasons for creating your campaign (wedding, birthday, sport, concert, etc.). You can create your campaign without associating it with any of these events.
- Campaign Title: The title you want to give your campaign.
- Campaign Creator: Your name.
- Description of the Campaign: Provide a brief description of the campaign.
- Collection Target: This is your campaign's objective. We recommend that you set a realistic goal. If the objective is achieved, the campaign will remain active, and you will be able to continue raising funds.
* If this field is not displayed, it is because the organization has already defined, in advance, an identical objective for all P2P campaigns.
- End of Campaign Date: This date marks the end of the campaign (but not the collection goal).
- Web Address of Your Campaign: Here you must fill in a small text box that will be added to the URL to form the URL of your campaign.


- Anonymous Donations: Select this option if you want your donors to appear as anonymous.
Section 2
- Date of Birth: This field is requested in case the organization has chosen to request data from the legal guardians of minors.
Section 3
- Profile Photo.
- Customize your Story: Tell your story, including the motivations that led you to create this campaign, your objective, etc.


Section 4
Here you can further customize your campaign by adding an image or a video.
- Add image.
- Add video URL.
Below is an example of what your campaign will look like and where the data you fill in when creating your campaign will be displayed: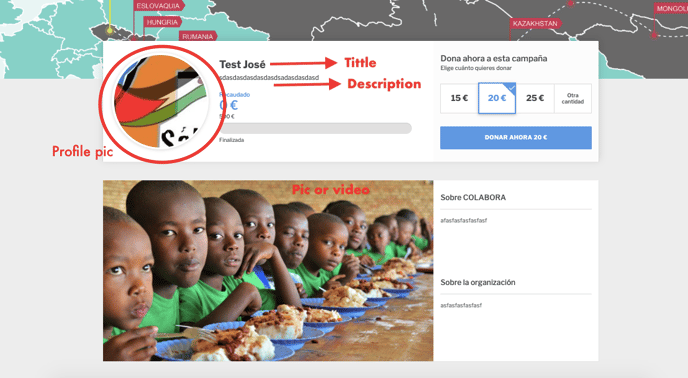 Once the campaign is created, it must be reviewed by the organization, and, once validated, you will receive a confirmation email with the URL of your campaign. It will also be visible on the Marketplace.
Now that you have your P2P campaign ready, you can promote it among your followers to inspire them to collect and contribute to the cause.
2.2. Edit P2P Campaign
To edit a campaign, the process is similar to creating a campaign.
Once you click on the "Create your campaign" or "Edit your campaign" button, you must enter the email with which you created the campaign. You will receive a code to this email address which you must enter in order to access your P2P campaign and edit it.